Goðafoss Waterfall
Goðafoss waterfall is about 25 km away from us (15 min drive). Goðafoss waterfall is one of the most spectacular waterfalls in Iceland. It is located in the Bárðardalur at the beginnig of Sprengisandur highland road. The water of Skjálfandafljót river falls from a height of 12 meters over a width of 30 meters. In the year 999 or 1000 the lawspeaker Þorgeir Ljósvetningagoði made Christianity the official religion of Iceland and after this when he returned from Alþingi at Þingvellir in south of Iceland he threw his statues/icons of the Norse gods into the waterfall.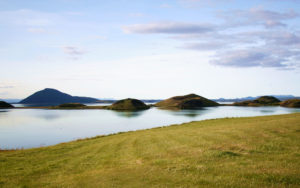 Lake Mývatn
Lake Mývatn is about 45 km away from us (30 min drive) and is known for the great variety of birdlife and natural beauty. By the lake is also the lava field Dimmuborgir and not too far further you find fuming hot mud fumaroles and the Mývatn Nature Baths (Blue lagoon), Viti and Krafla.

Dettifoss Waterfall
Dettifoss Waterfall is the most powerful waterfall in Iceland, and in fact in all Europe and it´s only about 90 min drive from us (120 km). It runs in the glacier river Jökulsá which comes from Vatnajökull Glacier.
Ásbyrgi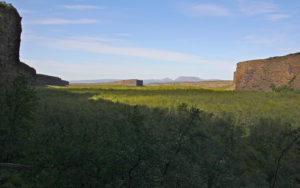 Ásbyrgi is undoubtedly one of Icelands most beloved nature pearls. It is an enclosed canyon in Kelduhverfi district west of river Jökulsá á Fjöllum. The enclosure is about 3.5 km long and 1.1 km wide, surrounded by cliffs which reach as high as 100 m. According to legend, the horse of Óðinn, the chief god of Norse mythology, stepped down here, with one of his eight legs, leaving its giant hoof print. Ásbyrgi is about 90 km from our hotel (1 hr drive).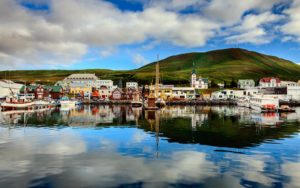 Húsavík
Húsavík is the Capital of Whale watching in Iceland. It also has the Whale Museum which hosts, amongst other things, a skeleton of earths largest creature, the blue whale. There are also other interesting museums in Húsavik for instance the Heritage Museum. Húsavík is 28 km away from us, only about 20 min drive. Whales seen in Skjalfandi bay are f.i. Blue Whale, Humpback Whale, Mink Whale, Killer Whale, Fin Whale and White Beaked Dolphins. Also occasionally Sperm Whale and Harbor Porpoise.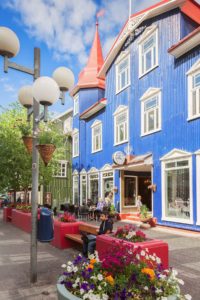 Akureyri
Akureyri is the biggest town in Iceland outside Reykjavík area. Distance to Akureyri from our hotel is 65 km so it takes you only around 45 minutes to make a town trip to Akureyri from us.